Does Homeowner's Insurance Cover Tenant Vandalism? Property damage in Cherry Hill NJ, Property damage in Moorestown NJ,
9/26/2017 (Permalink)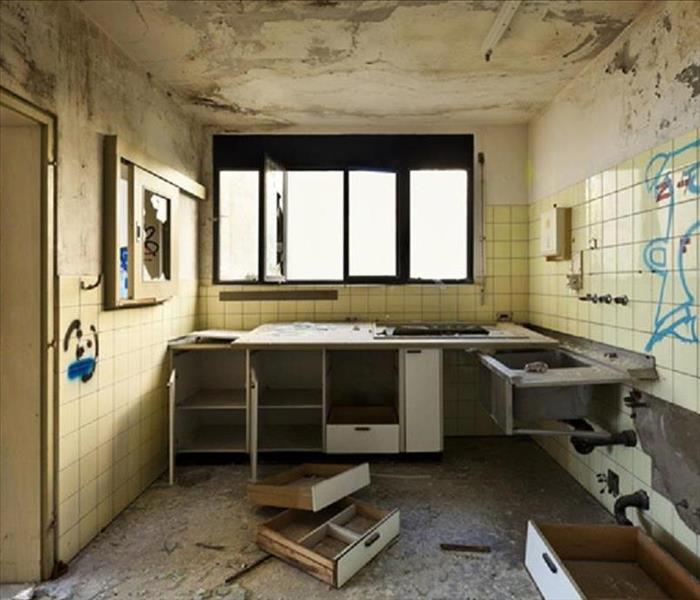 Does Homeowner's Insurance Cover Tenant Vandalism? Property damage in Cherry Hill NJ, Property damage in Moorestown NJ,
A tenant of a property stripped down the home to the bare drywall and inflicted $1.5 million worth of damage. The tenant took fireplaces, railings, lights, windows, doors and every other fixture imaginable! What are homeowners and landlords to do in such a situation? We see many predicaments such as this (fortunately most are not as severe as the one we depicted), and our clients always wonder: Does homeowner's insurance cover acts of vandalism and theft?
The answer is that standard homeowners insurance policies will generally not cover any damages inflicted by tenants; Homeowners insurance policies only cover residences lived by the actual homeowner, or to put it simply, covers only the property in which a homeowner lives. Rental properties require a different policy under a rental homeowner's policy known as a "dwelling fire policy". Under the dwelling fire policy, normal wear and tear damage is not covered, but preempted vandalism is. However, in order to claim vandalism, homeowners must file a police report and press charges against the offender.
All homeowners and landlords to check with their insurance companies to review their policies and get a better understanding of what is and isn't covered under their premium.
Tenant vandalism cases are tricky because homeowners will need to present proof to back their claim in order to get compensation from their insurance company. Of course this is not always possible and insurance companies might not honor the claim without proof. Alternatively, landlords could take this issue to court and sue tenants in a small claims court for damages, but even so monetary collection is still complicated and difficult to obtain. All landlords or homeowners who are renting their properties to enforce strict security deposit regulations, which will offer ample protection for the landlord and cover any damages caused by the tenant.
Again, remember to check with your insurance companies to see what liabilities your policy covers and doesn't cover.
Most insurers, including, offer vandalism insurance as part of a homeowners policy. However, as specific coverages vary from insurer to insurer, it's best to contact your provider to verify that you're covered; don't just assume.
You'd hate to be counting on vandalism insurance, only to find out after an incident that you need to pay out of pocket. If a basic homeowners plan doesn't include coverage for vandalism, you may be able to add it as a named peril.
Are you protected against vandalism?
Keep in mind that vandalism coverage may not apply if your place is vacant for a significant amount of time, as could be the case with vacation homes or investment properties. Again, this varies from policy to policy, so be sure to speak with your own insurer about time-period restrictions when it comes to being away from home.
common types of vandalism
Graffiti is by far the most prevalent form of property vandalism, accounting for 35 percent of cases according to the Bureau of Justice Statistics. That being said, there's a lot more than just spray paint to worry about when it comes to your home. You may be glad to have protection against vandalism on your homeowners insurance policy in case:
Your outdoor lights or windows are broken
Your lawn is salted or garden dug up
Your house is egged
Your trees or bushes are cut
Your home is burned
Your plumbing is tampered with
Your locks are glued
And those are just several examples. Because vandalism can come in seemingly endless forms, and is often the result of random rebellion or teen peer pressure (roughly 40 percent of vandalism arrests involve juveniles), it can be especially hard to anticipate. That's all the more reason to back up your home and hard-earned savings with homeowners insurance to help protect against a variety of hazards.