Impact Of COVID-19 On Businesses And The Importance Of Cleaning
7/23/2020 (Permalink)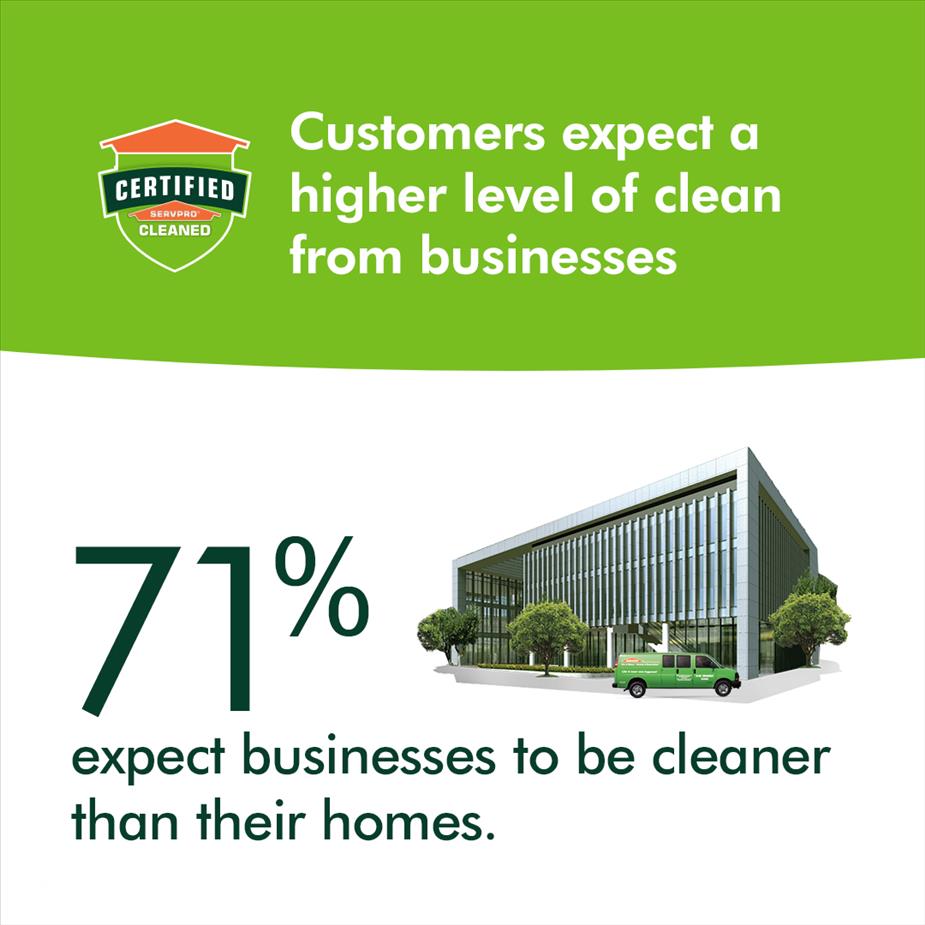 This year has been a complete shock. However, if there is one thing it has taught us then that is the importance of cleaning. Cleanliness leads to good hygiene, sanitation, and discourages any disease being born.
COVID-19 has had a major impact on the way people conduct business. In the beginning, everything shifted to remote work. However, slowly and steadily work is opening back up with the proper precautions of course.
This is why if you are an employer or you own a business then it is important you get it cleaned regularly. This should be done by a professional and here are a few reasons why.
Guidelines Set By CDC Followed
To make public spaces more clean and safe, the CDC has issued cleaning guidelines. They are extensive and some are technical as well. A layman can't possibly get the job done especially in a place of business.
A professional cleaning service will ensure that all the guidelines are followed so you can have an office that is thoroughly cleaned. It will mitigate all risks and maximize the safety of you and your employees.
Cleaning Equipment
Trained professionals are experts in disinfection and removing any sort of hazard. This is because they have the right equipment and tools to carry out this process.
Such equipment ensures that every surface area is cleaned including the air ducts, vents, and other systems that may be hard to reach. This way every nook and corner will be cleaned thoroughly with the right tools and equipment.
Safety Of Staff
In times of COVID-19, the priority of all businesses and employers is to keep their staff safe. People are risking coming to work and this is why they deserve to work in an environment that is safe and clean.
Hiring a professional to do a deep cleaning of your premises will ensure the safety of your staff. This way there will be no harmful bacteria or anything else looming in the workplace.
Apart from the cleaning, proper precautions should also be taken to ensure the maximum safety of employees. Professional cleaning regularly will keep your workplace risk-free.
Trained Professionals
You can get your business back up and running in no time by hiring professional cleaning services. This is because they have professionals that are specially trained in cleaning during such times.
Their expertise will ensure your office is sparkling like a diamond with no contaminants whatsoever. Everything will also be done in no time and so you can easily have your office running while keeping everything safe for yourself and your employees.
Proper cleaning during COVID-19 is more important than ever. It has become the basis of everything and now people don't go to places that they feel aren't cleaned properly.
This is why if you are tired of the impact this year has had on your business and you want to be up and running again then you must get professional cleaning services that provide you with everything stated above and much more.
If you are looking for a service then browse our website for more information or contact us now!