7 TIPS: TO AVOID BURSTING PIPES
7/15/2020 (Permalink)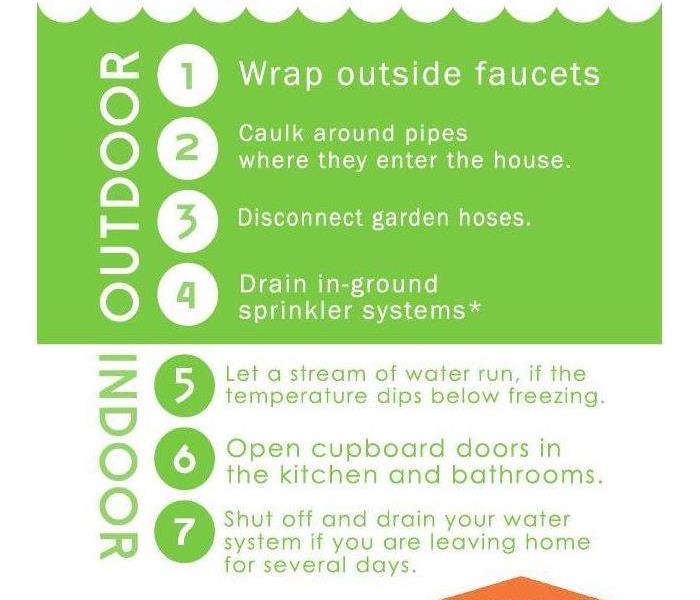 It's getting colder outside and many of us are pulling out our winter clothes and starting our fireplaces and furnaces. There is one task that many overlook during our winter preparations: the winterization of water pipes. We are prone to cold snaps in the southern New Jersey and when it gets cold, the accumulated water inside the pipes freezes, expands and creates extreme pressure. Eventually, the ice creates enough pressure for the pipes to crack. A small 1/8-inch crack in a pipe can release up to 250 gallons of water per day.
Wrap outside faucets – Covering and insulating the exterior faucet can help protect any water inside the pipes from freezing in the winter.
Caulk around pipes where they enter the house – You want to keep out as much of the cold air as possible. You can also check around dryer vents, windows, and electrical wiring.
Disconnect garden hoses – Any water sitting inside the garden hose could freeze and damage the material. If you have a sloped driveway, lay them out and let them drain, then store them.
Drain in-ground sprinkler systems – any remaining water in your sprinkler systems can expand and crack your underground pipes. Even Polyethylene pipes which are more flexible and expand under pressure can become damaged; water left inside can freeze and rupture the pipe walls. To minimize the risk of freeze damage, contact your manufacturer for proper winterization.
Let a stream of water run, if the temperature dips below freezing – A little bit of water flow keeps pressure low in the pipes. Low pressure means less of a chance of burst pipes.
Open cupboard doors in the kitchen and bathroom – Keeping cupboard doors open allows heat to reach the pipes, reducing the risk of them freezing.
Shut off and drain your water system if you are leaving home for several days – If leaving out of town during the cold months, you may consider shutting off your main water line and draining your water system. Empty pipes mean no water can freeze and rupture them. Keep in mind, if you have a fire protection system, this may not be the best option for you. Shutting off the water main means your fire system won't work.
Call SERVPRO® of Mt. Laurel/Moorestown at 856-778-4055 today to get help with all your restoration needs. We specialize in water, fire, mold & bio-hazard cleanup.